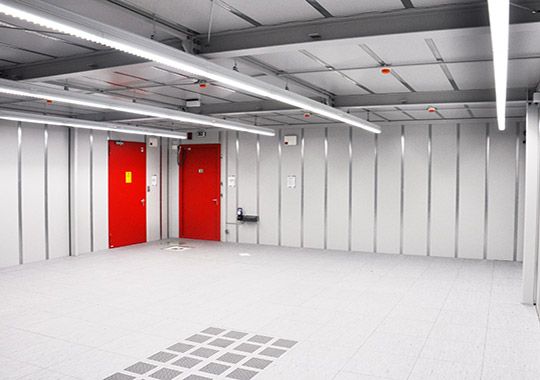 classic
IT security room
The most important element of passive protection of a data center from outside dangers such as fire, water or burglary is the outside casing. This casing should primarily offer necessary protection, however other important aspects such as extendibility, movability or construction time should be considered.
In principle, there is the choice between two possibilities when reconstructing a data center: Conventional massive construction or installation of a room in room system, meaning a separate safety room for the IT.
At the conventional method, walls, ceiling and floor are constructed in a pre-set protection variant. The best known example of this is the F90 wall. F90 means nothing else but that this wall resists a fire for 90 minutes. There are also higher safety classes up to 180 minutes. These safety classes, set in DIN4102, are sufficient for personal security, however, no longer up-to-date to reliable protection of IT. Since in case of fire far too high temperatures (200° degrees Celsius) and too high atmospheric humidity would arise in a data center, damaging the hardware.
Therefore the standard EN 1047 has been developed, applying to data cabinets and rooms. It does not only aim at the fire resistance of the wall alone but the complete outside cover. Moreover, it also regards the atmospheric humidity besides temperature. Economically, this standard can only be obtained by use of a room in room system. For IT euipment a safety room with walls, floor and ceiling is installed within an already existing room. This protection cell is closed in itself which can be proofed and certified as a system in accordance with EN 1047.
The standard EN 60529 is substantial for the water proofness of a safety room.
This standard specifies the protection of a room system against splashing water (primarily water for fire fighting) and stationary water. A protection against stationary water over a period of 72 hours is a present level of the technological development for high-availability facilities. A room in room cell should be measured according to this standard.
Only hermetically closed server rooms offer reliable protection against flue gases. Dangerous corrosive gasses primarily arise at the burning of synthetic materials. A flue gas proofed tightness according to DIN 18095 is important to the safety of hardware in a safety room. In Germany the water and gas tightness is described with the IP valence. A data center should have at least an IP56 protection.
Even though dust can never completely be avoided within a data center, the safety room should at least prevent additional dust admission from the outside. Safety in this regard offers a dust tightness in accordance with the regulations of the EN 60529 or an IP value of 56.
To also exclude the unauthorized access as last risk factor, a safety room should be equipped with effective burglar protection analogue to EN1627 and with a resistance class III (WKIII).
To ensure sufficient passive protection of a data center in all areas a safety room should be examined according to all these standards.
These protection cells are available in different protection valences, for every availability requirement with suitable protection class:
The valence "basic protection" suffices for data centers without a heavy availability demand for technology and backup rooms or in surroundings with a low danger potential.
The "increased basic protection" offers sufficient security for data centers with middle to a heavy availability demand. Such a data room also can be installed in surroundings with normal danger potential and satisfies the prerequisites for the common certifications.
A "high availability cell" offers the highest protection also in surroundings with a high danger potential. It protects hardware reliably also during the so-called after heating phase up to 24 hours after a fire. In addition such high availability cells are examined and supervised by an independent institute.
These protection cells are constructed modularly and therefore expandable without problems, they can moved in case of relocation and fiscally deducted as mobile fixed assets. They can be installed to any given room provided that it is big enough for a data center. Don't hesitate to ask us. we like to advise you at the choice of the matching safety room. We'll take care of IT.
innovIT - CARES ABOUT IT