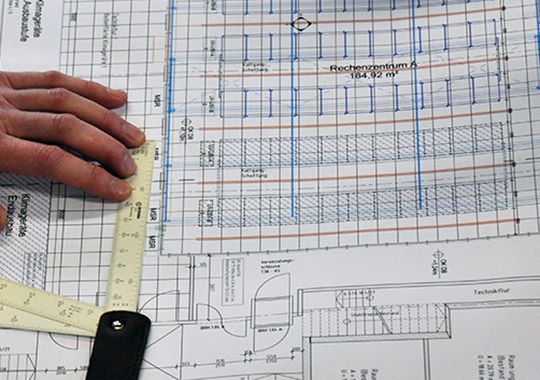 consulting
Design-
review
You want to build a data center and already have a planning. But your are not yet quite sure whether it represents the best solution? Or simply want to get a second opinion before you start with a such large and important project? We are here to help you.
Our daily business is the planning and construction of data centers. We also know the market for data center components very well. This helps us at technical judgement of a planning particularly also in regard to the practical execution and the combination of the individual components in the later operation. In a plan examination we also give high importance to possible use of innovative technologies to improve the energy balance and the cost structure of the data center.
Our main emphases in such an examination are the following:
ο Risk analysis of the surroundings and its effect on the planned data center
ο Analysis of the infrastructure on weak points and possible supply bottlenecks
ο Examination of the interaction and the coordination of the individual components with each other
ο Examination whether the data center infrastructure is expandable and flexible for changes
ο Check of the energy and cost effectiveness of the planned data center
ο Practical conversion of the plan with the on the market available solutions
ο Check of the investment calculation
We check the existing plans both in regard of the main emphasizes but to all extensive aspects.
We summarize our results in a report in which we list our observations and describe the respective possible consequences. You receive general suggestions for the improvement of the weak points and the concept and if you wish, with corresponding cost estimation. Such an examination can be made both in cooperation with your planning department as well as on our own without their cooperation.
Before you start such a complex and important project, we offer you the safety of a second opinion. Don't hesitate to ask us, we'll take care of IT.
innovIT - CARES ABOUT IT