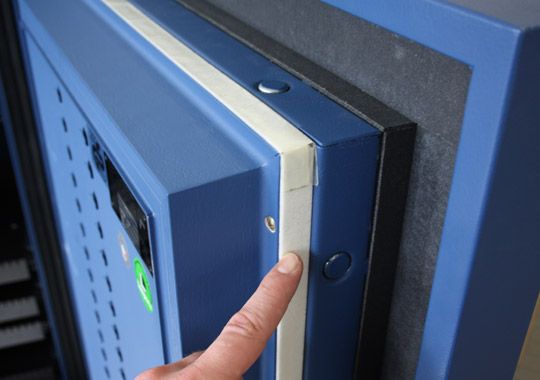 services
Sealing replacement
Safes and cabinet data centers are assets with a long lifespan, which you can use over decades. Solely the assets sealing components are subject to symptoms of aging and therefore should be exchanged every 5 years according to the manufacturers recommendation.
Depending on the manufacturer three to six different sealing units are exchangeable. They are located on the door frame and on the door itself. The sealing subdivide into shape-retaining sealing for smoke gas/water and sealing for fire protecting which well up by temperature influence.
After several years of usage of the the data cabinets certified fire protection (according to EN1047-1) possibly can not be ensured anymore, due to the occurring sealing defects. Therefore manufacturers as well as the organisation FUP (Forschungs- und Prüfgemeinschaft Geldschränke und Tresoranlagen /research and inspection community for safes and vault installations) recommend
a regular maintenance and exchange of sealing. According to the recommendation, data vaults are subject to an annual inspection and sealing should be replaced at the latest every 5 years.
Our service offer concerning IT safes and data vaults:


Repairs


Spare Parts supply


Key / Access Service


Emergency openings


Inspection of transport routes


relocations/transports



We exchange the sealing of your safe and vault and can remind you regularly of the next upcoming exchange appointment.
innovIT - CARES ABOUT IT