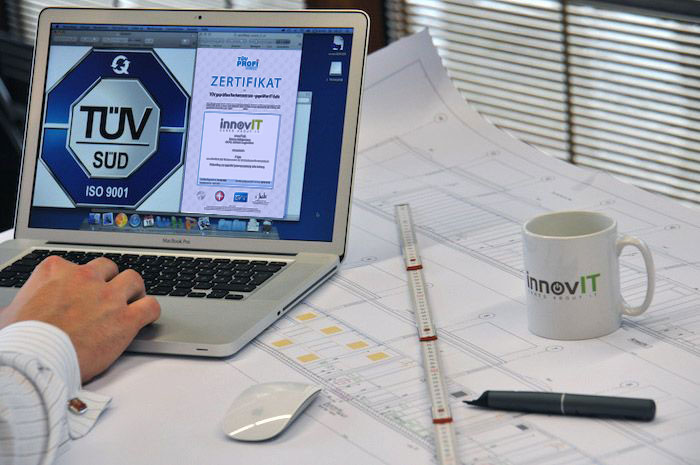 consulting
Certification
support
You have high expectations towards your own enterprise, your customers or even your insurance require highest safety, you want to assure compliance to different legal standards? With a certified data center you will be on the safe side.
As planner, constructor and service provider of data centers, innovIT AG is well accustomed to existing Norms and requirements concerning the data center. Consequently, our own products are TÜV-audited and certified.
We closely collaborate with TÜV Hessen when conducting the certification of a data center, who also specialises in Audits based on existing norms and regulations.
But what are the leading standards? The standard collection EN 50600 "Information technology - data center facilities and infrastructures" established by the European Union gives detailed information on requirements for the physical and environmental safety. Furthermore, certified management.
systems for information security according to ISO 27001 frames the corresponding processes.
Our specialty is the execution of IT-Safety audits according to ISO 27001 and their corresponding IT-safety requirements. We also offer the service of preparation for externally conducted certification. Out portfolio ranges from the consulting to the establishment of certification capability of your data center.
Areas further inspected are among others: Building and construction, Safety and alarm installations, technical and physical fire protection, electricity supply, cooling and HVAC and many more.
Thanks to the development and the construction of innovative and energy efficient IT infrastructure and cooling solutions we have gained expertise in the requirements for the certification of "Der Blaue Engel". Have you thought about the certification of an environmentally conscious data center? For responsible entrepreneurs and certainly for your customers, this is quite an interesting aspect. Don't hesitate to ask us, we'll take care of IT.
innovIT - CARES ABOUT IT