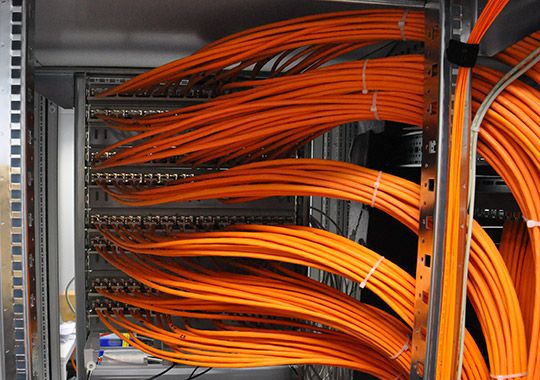 classic
Network cabling
One of the great challenges in a data center is he cabling of different network components. Beside the large amount of network components, also different connection types and requirements for communication technology have to be considered, which require but also aggravate structured cabling. Moreover, intelligent cabling should be also future proof, expandable and changeable within existing structures.
The network in a data center usually a grown structure which has been enlarged and completed depending on need. It therefore can grow into hardly comprehensible chaos of different types of cabling and interfaces which is hardly manageable. In existing and in newly constructed data centers the task is to unify all network connections into a structured and future oriented unity. This does not only help at the remedying of network failure and simplifying of maintenance but also reduces future investments in supplementary network expansions. Moreover, a comprehensive documentation of network structure makes working on it a lot easier.
Intelligent network cabling takes a step of away from direct cabling of single components to a satellite distribution architecture.
In this architecture, the main distribution connects with sub distributors which are independently distributed to lower levels. In these lower sections homogenous components are summarized. The network can easily be enlarged by new connections at the sub distributors. A restructuring of a section to a new standard is also simplified.
These distributors or switches are arranged in own network racks. The connection to servers is done by installation cables with standardized connectors at both ends. These cables have high transmission rates and are more reliable than other connections.
A simple satellite distribution architecture however has a disadvantage: If a distribution post or even the main distribution fails, the whole network collapses. For safety every switch should be made redundant and two redundancies should be connected not only linear but also cross-over on every level to ensure maximum
failure safety. This is simplified by the concentration of switches in own network racks because of short cabling ways.
When planning cabling in detail it should be verified which cable type and methods of connection to choose. This decision depends on desired transmission rates of connections and whether network development is static or dynamic. Also whether you would like to conduct modifications by yourself or contract certified specialists.
We would like to advise you on the topic of intelligent network cabling and, together with you, critically check your network architecture to uncover weak points and improvement opportunities. Don't hesitate to ask us. We put an end to the cable clutter. We'll take care of IT.
innovIT - CARES ABOUT IT