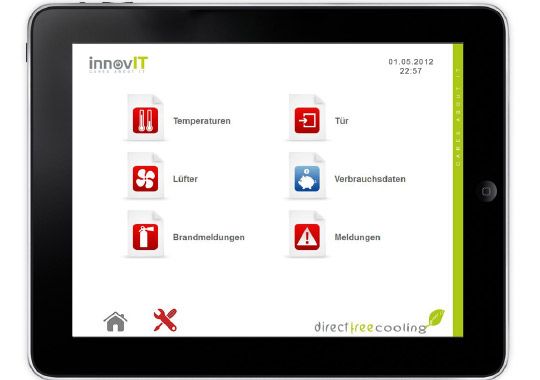 classic
Monitoring
To guarantee a smooth data center operation, it is important to supervise essential processes and to inform the persons responsible over particular irregularities. With the availability of information preventive measures and countermeasures can be started at early stage.
A good monitoring system collects all relevant data, evaluates and reports irregularities. These system collects status messages of individual components, such as failure notices of uninterrupted power supply, air conditioning systems, fire alarms, early fire detection or also maintenance requirements. Information is graphically displayed and passed on to supervisory systems, control rooms, a remote mainenance service provider, or to mobile devices of persons responsible.
Transmission of these reports can be conducted via relay exits, Ethernet connection or dial-in equipment by ISDN or GSM. For process monitoring you can nowadays use web based systems which are flexible and economic. They stay in connection with system bound sensors, but can also handle system-independent reports.
One step further are systems which can monitor, besides IT infrastructure, also servers themselves therefore giving the possibility for the supervision of entire data centers from one central place. Today every server offers a management port, with which one anytime can log onto the system for supervision. Also software systems send status messages in standardized form which are screened and processed in the monitoring system.
Beside a good concept and a high quality technique, it is also important to guarantee a flow of information, e.g. via standy service, desk offices or remote service providers. But flow of information alone is not sufficient. A catalogue of measures, possibly emergency manuals and a service agreement
with suppliers and maintenance companies are utterly important, this way the right steps can be initiated quickly. When choosing the right system it is further important whether it is expandable modularly, whether interfaces are available for standard protocols, such as SNMP, whether the notification paths are redundant and how easy the system is to configure.
We would like to support you with the choice of the suitable monitoring system for your data center and advise you on configuration conception, realization and preparation of measure catalogues or emergency manuals. Don't hesitate to ask us, we'll take care of IT.
innovIT - CARES ABOUT IT