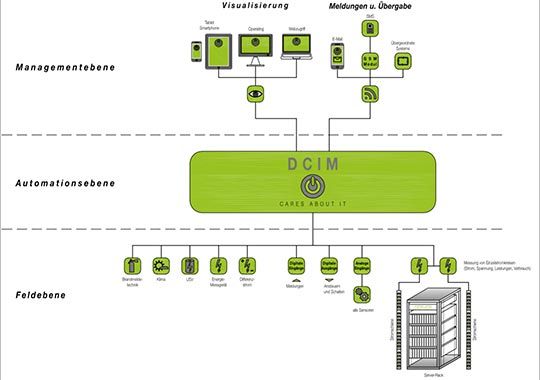 Information management
Data Center
Infra-structure
Management (DCIM)
Next to the monitoring of servers and other IT-equipment, the surveillance of the IT-infrastructure is an important objective. Intelligent data center information systems can help to stay informed on all crucial parameters and help bridge between normal operation and infrastructure maintenance.
The functioning of a DCIM system takes place on three different levels. The field level is there informations are measured and collected, the automation level is where collected data is processed and analyzed and the visualisation level is there data is displayed in various ways and made useful for decisions.
The main difference to monitoring systems of single components is that it can be used in automated processes and in steering of the whole system.
State of the art data center information management systems are able to connect to most of the components in a data center. This means it can not only physically connect to ports, it can also master various communication protocols. Furthermore it should be modularly expandable in order to integrate new components easily.
Using the visualisation level, data can be analysed in realtime and accessed using terminals, web-applications, smartphones, tablets, without major delays.
If configured accordingly a DCIM can deliver data on temperature or even energy usage of single components.
This is a useful feature for example when renting out or co-hosting, facilitating the correct allocation of cost to the consumers.
The configuration and integration of a Data Center Information management should be done with respect to currently available systems and those planned in future. Information need in Management and Accounting departments can easily be catered to with such a solution.

Don't hesitate to approach us...
innovIT - CARES ABOUT IT