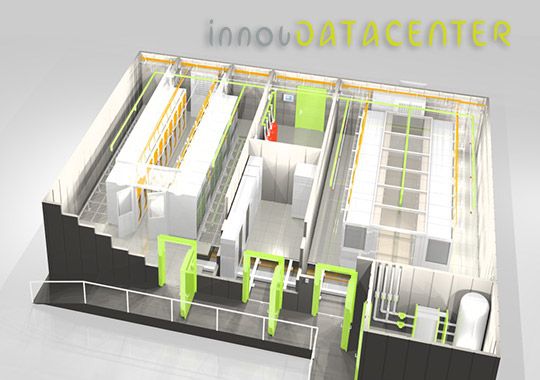 outdoor
Visualisation
An operator of a data center should always be enabled to be up to date about the operating status and changes over time. As a rule, technical infrastructure of a data center is very complex and hardly comprehensible. For a sensible supervision the most important parameters should be fixed, continuously measured and illustrated structurally. This way irregularities can be recognized and reacted to early.
To display those measuring values visualization systems are used.The simplest systems have a measurement recorder to which an external device is attached. It can display those values as a snapshot. The representation is usually shown on a screen which can indicate the existing temperature, humidity and the electricity consumption.
Very complex systems are integrated with own measuring and regulation technique and are able to memorize and show the measuring data's graphically for a certain period of time. They are able to indicate and compare the daily, weekly and monthly measurements.
In addition, the integrated regulating technique can already carry out customizations within predefined procedures of certain measurements of the data center. In regard of the transfer protocols the market offers a variety of possibilities no matter if it is through Ethernet, SNMP in the IT environment or over the usual bus systems like Mod-bus, Eib, Bacnet or similar, coming from building system automation.
Between these two possibilities there are still many variations because the exact arrangement of a visualization system depends on the complexity of measured data and the result of measurements and the general construction of the data center.
Visualization system don't only indicate risks and disturbances early but deliver substantial basics for an energy optimization. Because you can only steer what you can measure.
We like to introduce the different possibilities of data visualization to you. With the choice of the right system for your data center we would like to help you. Don't hesitate to ask us, we'll take care of IT.
innovIT - CARES ABOUT IT