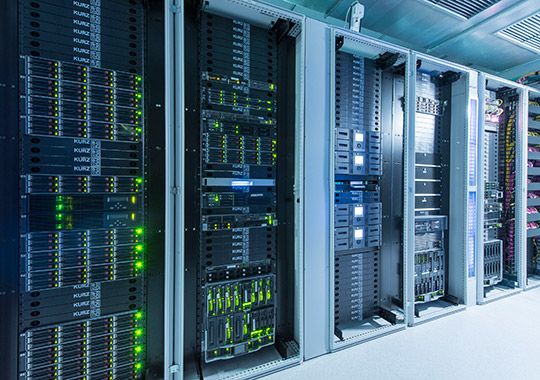 outdoor
Server- and network racks
Active components and distribution technology are stored in metal cabinets called racks. Among other things these components contain servers, storage systems, tape libraries, switches or routers. This equipment will be screwed directly into the perforations of the racks. Units which cannot be screwed find place on the shelves at the bottom which also can alternatively be extendible.
These cabinets mostly are standardized on 19" custom slide-in units, however, in the telecommunication sector size can vary from widths of 21" or 23 inches. Racks are offered in different sizes as hardware components have different sizes too. Racks are available in the size of 2 to 50 rack units, though standard sizes correspond to 24, 42 or 47 rack units. The standard width for server racks is 60 cm, this corresponds to exactly the width of the hardware. Network racks are offered with a width of 80 cm, because of the need of additional space for cabling even if the components are as wide as standard servers. As an alternative there are racks with the size of 70 cm which have cabling on one side only.
In depth there are also size differences. In principle, the depth of a rack depends on the size of hardware.
As a rule, the size of network components are 80 cm. For the new purchase of server racks a depth of 120 cm is recommendable, because manufacturers tend to offer flatter and deeper constructions.
Racks are offered as open and closed cabinets. Open racks should only be built in secured data centers as they offer open access to every authorized person to work at the racks. Closed racks offer good access protection for a single cabinet and can therefore be used in data centers in which not every authorized person has access to every server cabinet. In addition, they are particularly suitable to be set up outside of a data center. It should however be considered that a closed rack is not cooled through the normal room air conditioning but needs in any case a built-in rack based cooling. The same applies also to the extinguishing system: a closed rack needs its own extinguishing plant. To combine access protection with general infrastructure, perforated doors can be installed which make an exchange of air possible.
There are many reasonable built-in components for racks to improve performance or handling. There are different rails, hangers and ranging panels for cable management. Closed racks have their own extinguishing plants and Air conditioning units. Sound proof racks are also available, making sense primarily for single racks in commonly used rooms. For access control, usual systems can be used.
However we would like to point out that with a single standing server rack it should be checked whether IT security requirements are met. If high availability of hardware is preferred, one needs a gas-tight, waterproof, burglar proofed cabinet. In this case a normal rack are not sufficient, the ideal solution would be an air conditioned IT safe. Don't hesitate to ask us, we'll take care of IT.
innovIT - CARES ABOUT IT