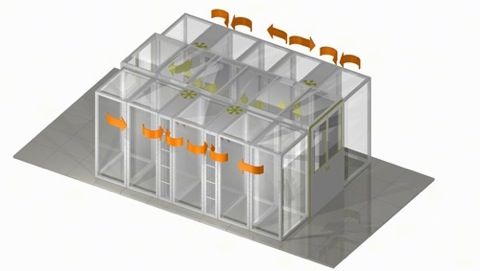 classic
Inrow cooling
The air conditioning of a data center using a wall mounted unit or via raised floor is possible only up to a certain power density. A reliable cooling is so no longer possible if the racks reach approx. 10 kW per rack. InRow air conditioning is a further development in air conditioning technology which reliably cools up to densities of 15 or even till 20kW per rack.
Instead of one major ventilation system there are several smaller cooling units at the InRow air conditioning, placed between the racks. They have the same measures as racks, but are slimmer and stand in row with the racks, causing the name "InRow", sometimes also called inline-air conditioning. These cooling units stream cold air towards the front, which is absorbed by the surrounding racks in order to reduce the heat. The warm air, released on the back of the racks is then absorbed by the cooling unit again.
By the spatial proximity between cooling element and rack this air conditioning variant is very energy efficient in comparison with conventional cooling. For the increase of the efficiency, the InRow air conditioning is usually combined with a cold corridor or heat corridor partition by encasing.
The encasing of the cold corridor caused the cold air to stream directly through the rack and prevents it from mixing with warm
air situated in the room. With a heat corridor encasing the principle is turned around. The closer the rack is placed to the InRow device, the higher the discharge performance will be.
Either water or cryogen can be possible mediums for the InRow air conditioning. Cryogen can only be cooled down mechanically by a compressor.
As an alternative, the direct free cooling is currently being tested, however, this method being still an a developmental stage. Water, besides the conventional mechanical cooling, also can be cooled by environmentally friendly technologies, such as geothermal cooling, well water, indirect free cooling, adiabatic line cooling and solar cold
With an InRow air conditioning a raised floor is no longer necessary, this saves investment costs for the ground itself and the necessary fire extinguishing units. Furthermore, more racks can be installed on the same space compared to conventional cooling methods.
One of the disadvantages of inrow-cooling units, however, is the lack of spatial separation between air conditioning and IT. Climate technicians and maintenance will have access to the IT areas. You can reduce risks with lockable racks.
Do you want to learn more about the InRow air conditioning? Don't hesitate to ask us, we like to explain you whether this solution is worthwhile and whether it makes sense for your data center. We'll take care of IT.
innovIT - CARES ABOUT IT