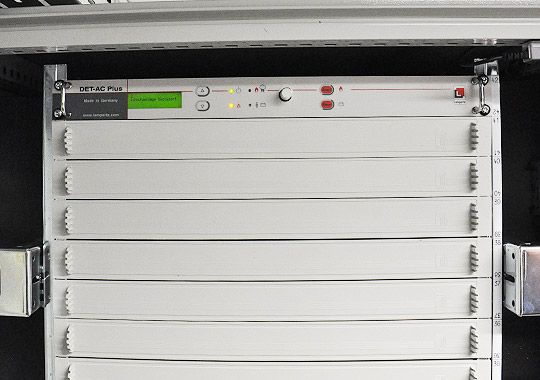 classic
Rack extinguisher
Closed racks, both stand-alone IT safes and closed racks within a data center, need own fire extinguishing systems in case a fire arises inside.
Not every rack has to be completely self-sufficient, as control electronic can be used for several racks at the same time, but in every closed server rack needs an extinguishing gas container or a central extinguishing gas cartridge/bottle.
The rack extinguishing system optimally only measures 1 height unit and is equipped, beside extinguishing capabilities, also with early fire detection. It is installed on the topmost level of the rack. In case of fire the extinguishing gas, heavier than air, will sink to the bottom and therefore spreads out in the interior of the rack as quickly as possible.
Normally extinguishing gasses on chemical base are used, where a closed server rack must only be filled with gas up to approx. 4% which is considerably faster than the extinguishing with Inert gasses,
such as nitrogen. Additionally, chemical base gases are neither conductive nor corrosive and only need little space in the rack.
The fire recognition is conducted by highly sensitive smoke absorbing systems which are permanently active. In the Pyrolysis, which is the earliest phase of a fire, they can detect smallest and completely invisible soot particles.
To exclude a fault of detection, the absorbed air is conducted through two independent fire sensors for early detection. If both sensors report a beginning fire, it can already be fought before serious damages to the hardware occur.
The price of an extinguishing plant is proportioned by room volume, the smaller the room, the more economic the extinguishing plant. Naturally, extinguishing the interior of a rack is faster and more economic than to extinguish a whole data center.
This is only one of the many reasons which favour the use of IT safes in small data centers. We are happy to advise you and help you find out, whether such a solution is possible and profitable for you. Don't hesitate to ask us, we'll take care of IT.
innovIT - CARES ABOUT IT