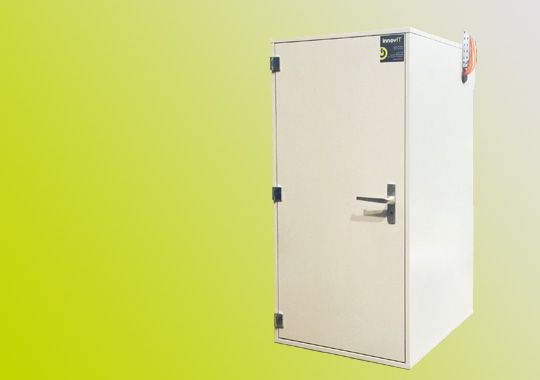 smart
IT-Safe
The most important element for the protection of IT-safes against external dangers such as fire, water or burglary is the outer shell. This outer shell should mainly provide the necessary protection, but it is also important whether it allows extensions.
In order to ensure adequate protection for server, storage and network components, the standard EN 1047 was developed, which applies to data cabinets and data rooms and aims not only to the fire resistance of the individual wall element, but on that of the entire outer shell as a system. In addition, this standard also considered other relevant factors such as humidity. Only specially developed for this application IT-safes achieve this standard. They are designed to optimally protect the hardware from exposure to flame, steam and corrosive flue gases.
For the waterproofing of an IT-safe standard EN 60529 shall prevail. This sets guidelines to protect the cabinet against splash and especially firefighting water. A protection with IP56 is current state of the art for highly available systems. a secure server cabinet should be checked by this standard.
Only a hermetically sealed IT Safe provides reliable protection against fumes. Hazardous corrosive gases arise primarily from the combustion of plastics. An approved flue gas tightness accordance with DIN 18095 is important for the safety of the hardware in the protective enclosure.
In Germany, the water and gas tightness is described with the IP value. A data center should have at least an IP56 protection.
Although dust within a data center can never be completely avoided, the IT-safe should at least prevent additional dust entering from outside. Security in this regard provides a dust tightness in accordance with the provisions of the EN 60529 or an IP-value of 56.
To also exclude the last risk factor unauthorized access, an IT-safe should be equipped with an effective burglary protection in accordance with EN 1627 with resistance class II (RC2).
Optimally, an protective cabinet should be tested after all of these standards in order to ensure an adequate passive protection of the data center in all areas.
Furthermore, a good protective cabinet should be expandable. Modular enclosure systems are linkable, not only directly in the construction, but also in retrospect. Thus the data center always adapts to the current required space. IT-safes are available in various sizes and configurations. We help you to find the right solution for you, don't hestiate to ask us!
innovIT - CARES ABOUT IT