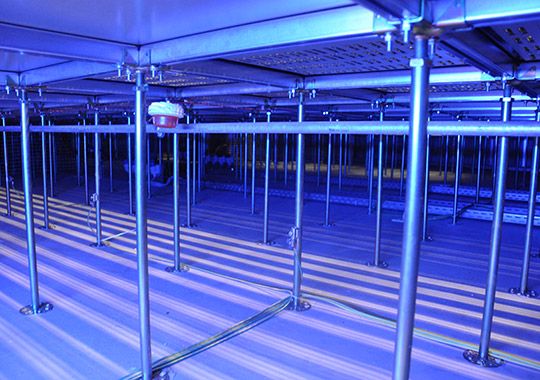 classic
Raised floor
A raised floor is a second layer ground retracted over the actual building ground. Under the raised floor, a cavity arises. This technique is used in many areas for example for cable management and the installation of pipes
Metal stilts are installed on the building ground, on which floor plates are laid. These floor plates can be lifted any time for inspection and maintenance of underlying technology.
In data center construction raised floors are often used. On the one hand, the raised floor can be used for cable management here too, however it is also used for air conditioning. Cold air is induced into the cavity under the data center by an Air conditioning unit. By ventilation slits in the raised floor the cold air then raises up and is led exactly there where it is needed.
Raised floors come in different fire protection classes and in different materials. Opposed to PVC materials, Natural rubber coatings have the advantage that they are nonconducting. There are also great differences in the capacity of floors which is defined by execution of the cross braces under the floor.
With adequately stable supports in the raised floor a very high floor loading can be realized. For special loads in single places, such as at the location of the USP Device, the capacity can be increased selectively by special frames in the raised floor. Nowadays the grid of the floor plates normally measures 60 x 60 cm.
It should also be taken into account that the cavity must be equipped with fire supervision unit of its own. Gaps in the ground - for example for cables - have to be sealed with brushes, since otherwise cold air leaves uncontrolled and affects the efficiency of air conditioning.
Instead of normal floor plates also other elements can be installed into the raised floor. For example active double floor plates which support air conditioning of the data center
with a ventilation.
As decorative elements or for visual checks, you can also place glass plates, which are either transparent or equipped with your logo.
Do you have questions on the optimal raised floor execution or on raised floor design? Don't hesitate to ask us, we'll take care of IT.
innovIT - CARES ABOUT IT