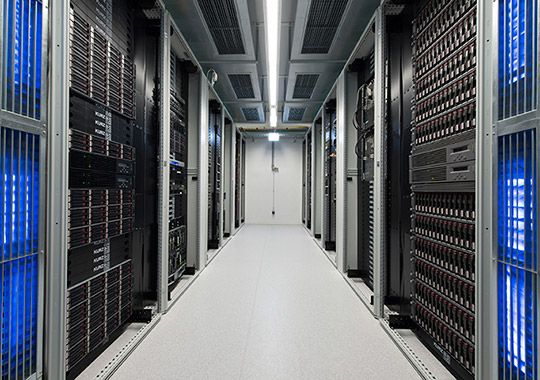 classic
Lighting systems
The question of illumination surely is not one of the most important aspects when planning a data center. Nevertheless illumination concept can have late effects on safety and expenses of a data center. In existing data centers illumination can also be a lever which can fast and uncomplicatedly save operating costs and increase the safety.
Primarily for users, lights should be bright enough and illuminate the data center well, as working in server cabinets should be visually comfortable. Secondly, low cost of electricity at the highest possible safety are important to operators, as certain illuminants can also become a source of danger themselves.
We, InnovIT AG, therefore recommend the equipment of your data center with LED lights. This technology is used more and more in other areas and provides some advantages over other illuminants in the data center:
- low electricity consumption: At present, the most economical illuminants on the market are by far LED lights.
- low failure rate and long life time: Less maintenance effort and fewer access of maintenance personnel in sensitive areas
- high degree of effectiveness: fundamentally LED lamps do produce less waste heat than other lights and therefore do not heat up the data center in addition.
- Small sizes: The small lights can be installed almost everywhere, even where before no lights could be installed for example because of lack of space or danger of injury by heated lamps
- Ruggedness: LEDs are shock and vibration resistant and can hardly break by touching, moving and transportation
- Safety: Due to low temperature, due to the high safety and their way of construction LEDs do not represent any additional source of danger within data centers
Importance with the choice of the right LED light lies in the certification by technical supervisory associations.
When planning illumination all new possibilities of LEDs can to be taken into account, as this technology permits completely different solutions to those known before. An exchange of standard luminescent tubes against fitting LED tubes is even a wise investment.
We would like to advise you with the equipment of your data center with LED lights, whether in a new building or existing facilities. Don't hesitate to ask us, we'll take care of IT.
innovIT - CARES ABOUT IT