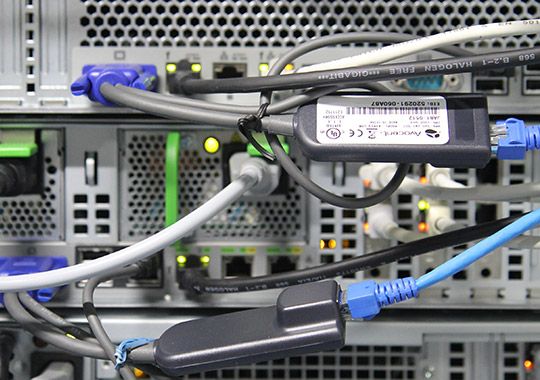 classic
KVM-Switch
Easy operability is important to data center administrators. In order access as many systems as possible from one work station, equipped with monitor, keyboard and mouse, servers are connected with a so-called KVM switch.
The switching between different servers can be carried out virtually through a console or directly at the switch.
Different connection types can be attached to the KVM switch using adapers. For monitors there is the possibility of either an analog VGA connection or a digital DVI connection. Mouse and keyboard can either be connected via PS/2 connection or via USB. Compatibility with all common operating systems is important, at the choice and planning of a KVM system.
KVM solutions mainly vary in regard to the position from which they can be accessed:
On a so called local KVM-Switch, You can connect to the KVM-switch through an in a rack built-in-unit. This is the most economic solution, however, the operation directly at the rack is inefficient and not ergonomic.
You can use CAT cabling to connect a KVM switch with a remote workstation within the LAN and therefore have access to various servers from normal work station. Larger distances between server and KVM switch can be bridged by a KVM extender.
Meanwhile servers can be accessed from any place in the world by connecting the operating unit to the KVM switch through IP network. For server administration these so-called KVM-over IP switches offer a maximum flexibility.
Another distinctive mark is the number of servers which can be used with a KVM switch. A KVM switch can usually connect between 2 and 64 computers, this number however can be increased
considerably by cascading, connecting several switches in row.
The investment costs for a KVM system are determined by a combination of different factors, decisive beside the number of server ports is the type of connection and the number of simultaneous operators.
The optimal planning of a KVM system and the choice of the components depend substantially on a sound on the spot analysis of the situation. Our employees have the experience to configure the optimal KVM system for your data center. Don't hesitate to ask us, we'll take care of IT.
innovIT - CARES ABOUT IT